The event of AEFI for the world celebratory day dedicated to the exhibition industry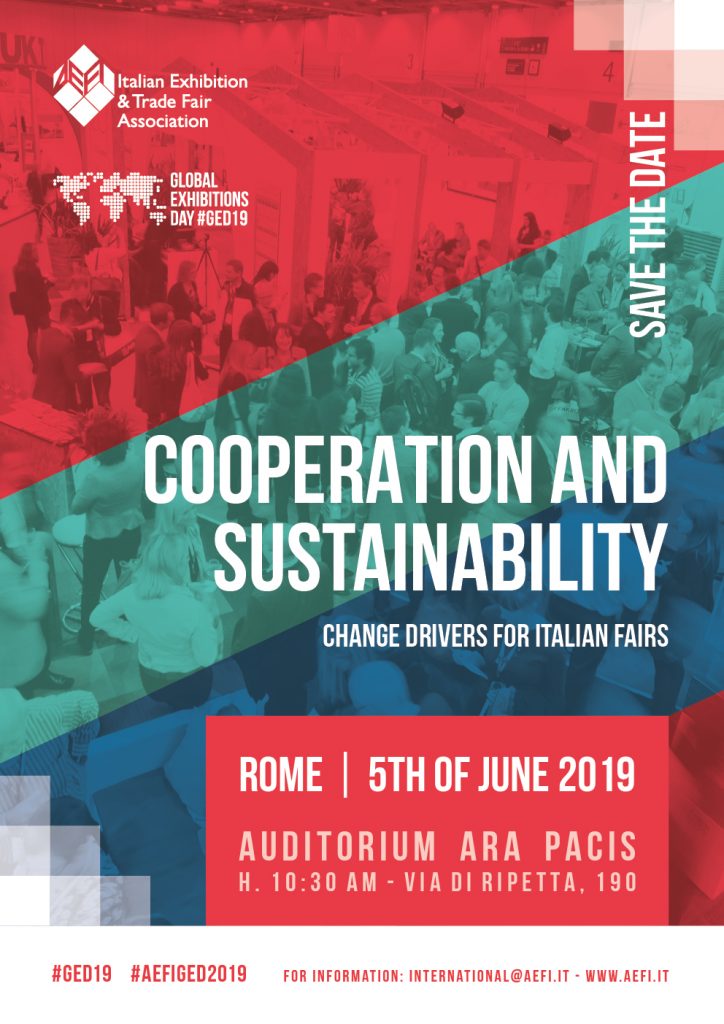 The spotlight is on 5 June when the trade fair world marks Global Exhibitions Day, a celebratory day created in 2016 by the UFI Global Association of the Exhibition Industry and one that has immediately become the annual event of reference for the sector on a global level.
This year, and starting with the themes proposed by the UFI, AEFI has organised "Cooperation and Sustainability: change drivers for Italian fairs", an important event taking place in Rome, at the Auditorium dell'Ara Pacis.
An opportunity to solicit the opinions of the public, institutions and financial world on the centrality of the Italian trade fair sector and the need for urgent action in terms of reinforcing and defining the strategic role of trade fairs within the country's industrial policies.
A chance to promote trade fairs as drivers for the sustainable growth of company business and to highlight the contribution exhibitions make to the achieving of those sustainable development goals set out by the UN (UNSDG).
The AEFI #GED19 programme covers a full day and is split into two sessions. The morning will be dedicated to institutional addresses, thanks to the presence of representatives from the Ministry of Economic Development, the Ministry of Foreign Affairs and International Cooperation, ICE Italian Trade Agency, Unioncamere and Conferenza delle Regioni e Province Autonome, and a focus on cooperation in order to be stronger, more competitive, and achieve systematic goals in global economy.
The afternoon will give space to Italian trade fair representatives, who will share their best practices for environmental sustainability from the trade fair district standpoint, as well as their views on organisational processes and thematic fairs with the aim of generating positive emulation.
As with previous editions, the subjects covered will become part of the association's programme and will steer the development of fairs.