TECA – Taiwan Exhibition and Convention Association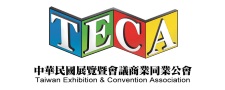 Taiwan Exhibition and Convention Association (TECA), consisting of exhibition, constructors, travel agencies, forwarders, advertising, hotels, public relations consultants, integrated marketing & convention organizers, was founded on June 18, 2008 and established under Law of commerical organization TECA's objective is to promote the exhibition and convention industry both home and abroad, advance the economic development, harmonize TECA members'relationships, further the common interests, and assist the government in carrying out policies and laws. "Taipei Exhibition and Convention Association" has been officially merged into nationwide organization, named "Taiwan Exhibition and Convention"(TECA) on July 31, 2008. Mr. Tiger Lin, was elected as the 1st president of TECA. After consolidation, all affairs will be taken over by new TECA. The stuff re-employed and there is no change with contacting information, including logo, address, number, fax, email and website. TECA bears the mission to broaden international trade and promote Taiwan economic development as a whole, create good connection and cohesion within MICE industry, and assist government in establishing exhibition policies.
TECA's missions include:
Assisting the government in carrying out economic policies and business rules as well as offering constructive suggestions to the government.
Issuing membership validation/ certificates
Giving professional advice and maintain the business code of ethics
Certifying member's products and exhibitions
Guiding members' operation, conducting survey & research and taking advice
Entrusted projects by the government and organizations & giving advice
Preserving members' legal rights and conciliating between members during disputes
Charity activities and public welfare
Any other responsibilities as stipulated in laws
Functions :
Assist the government in advancing counseling programs and carrying out decrees of MICE industry: timely notice of member related decrees via fax, email, website and e-News.
Actively join international convention and exhibition organizations: TECA selectively joins international convention and exhibition organizations and actively participates in activities to be in line with the international standard. At the same time, encouraging members joins international associations for exchanging opinions and information with overseas businesses, building up friendships and striving for cooperation opportunities.
Convene committees meetings regularly: TECA not only coordinates and integrates business order of the same profession to reduce the dispute over conflicts, but also accepts the reflection of members' problems and transfers them to related authorities for adopting and implementing. This way, the rights and interests of the same profession can be maintained.
Provide domestic and international platforms of MICE industry: TECA can become one of the major websites for exchanging information of MICE industry in Taiwan as well as internationalization of the website where members are able to release related information or articles.
Membership:
The Association consists of ordinary members and associate members. (a) Ordinary members: Membership shall be open to all companies in exhibition and convention industry registered in Taiwan, regardless of state-run or private, unless otherwise stipulated in the laws. For membership application, companies eligible to join the Association shall submit application forms within the first month of business. (b) Associate members: Membership shall be open to Juridical association, corporation or academic organization which deal with related research、guidance & assistance、training、sales management and integrated resource.