Studies on the Trade Fairs Sector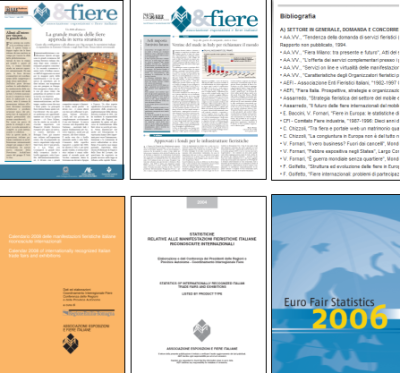 The national trade fair industry reflects the industrial productive structure of our country and the basis for development of its international greatness may be found in sector specialisation and centre specificity.

Over the years, the Italian trade fair sector has been involved in relevant changes: expansion projects, legal transformation of trade fair entities into PLCs, and decentralisation of competencies pertaining to regional trade fairs and exhibitions.

The collection of articles, research, studies and specific surveys provide the main players and users of Italian trade fairs with constant updates on developments.
In this section you can consult the following documents:
AEFI & Trade Fairs – quarterly newsletter published with the collaboration of ICE (the Italian Institute for Foreign Trade) and the Ministero dello Sviluppo Economico (Ministry of Economic Development )


Publications – archives of AEFI publications since 2001