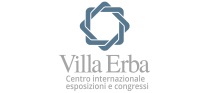 exhibitional
Indoor square meters
12000
Outdoor square meters
Pavilions
4
congressional
Seats
1500
Plenary seats
1500
Rooms
28
facilities
Refreshment areas
Entrances
Parking spaces
Description
Description
Villa Erba Spa was inaugurated in October 1990 to meet the need of having an appropriate meeting place to host both residential congresses and business exhibitions. In 1986, the heirs of the Visconti family sold the villa and the surrounding land to a public consortium. The ensuing project led to the creation of the exclusive exhibition and congress centre formed by Villa Antica (home to galas and business luncheons, seat of the offices and recent museum path) and by a dome with three wings branching out, designed on a project by architect Mario Bellini, expert in designing fair spaces. The project dates back to 1990 and was inspired by the greenhouses typical of the noble residences surrounding Lake Como. It fits perfectly into the century-old park of the villa, the venue for strolls in the botanic garden and ideal location for open-air events. The transparent dome, made in glass, steel and cement, blends perfectly with the residence and revolves around the central pavilion: a circular and multifunctional hall covering about 1,480 m2, with large windows that may be darkened if required, revolving around the whole perimeter, offering stunning views on the lake. Equipped to accommodate over 1,200 seats, with a theatre-like setup, its versatile features make it the ideal place to host the widest range of events: from conventions to stage and fashion shows, from sports events to displays, ballets and gala dinners. The building is the core of the fair space, the symbolic centre, with the three exhibition wings branching out (Lario, Cernobbio and Regina); half-structured spaces, extremely functional and fitted with every comfort and service to best host any event. The three wings have been designed to be either independent or communicating, depending on the needs, nand to quickly change from small conference rooms into a single space covering about 11,000 m2, able to accommodate 280 stands fitted globally or by modular system. The large lakeside park, known for the abundance of century-old trees and remarkable collections of azaleas and hydrangeas, forms an integral part of the exhibition space, besides being an ideal place to stop and take a break from work. The open space of the riding track is the area used mostly for both open-air cultural and sports events. The extensive park is also fitted with private moorings and a helipad. During summer, the villa's broad terraced staircase, sloping down spectacularly to the lake, and the finely frescoed halls, are the ideal surroundings for exclusive receptions.
Places to go
Places to go
Cernobbio lies just a few kilometres away from Como, ideally placed, facing the lake, with the fertile Po Valley in the rear. The charming landscape and its historical and artistic features, still traceable today, make it an extremely pleasant and interesting place to visit, so much so it has long been elected as the ideal place to build fine holiday residences in, on its shores.
Cathedral Built from 1396 on the area of the old Santa Maria Maggiore church, which was gradually brought down, the Duomo has the typical basilica layout with nave and two side aisles and three circular apses. The façade is distinctively Gothic, embellished with sculpture decorations. Inside, a wealth of masterpieces.
Casa del Fascio Lying opposite the Duomo apse, in piazza del Popolo, built in 1932-36 on a project by Giuseppe Terragni, famed Italian Rationalist architect, designed on the Roman "domus" with central courtyard.
San Fedele Erected on the area of an early Christian church, this very ancient, unique and complex structure features an unusual design resulting from the combination of a typical basilica layout and a central trilobate German plan
Surroundings
Surroundings
Bellagio (30 km from Como) Situated where the two inner banks of the lake converge, at the top of the Lariano Triangle. A medieval fortified village, Bellagio is a popular tourist resort, offering an enchanting landscape, with an old town centre still virtually intact and a ring of noble villas.
Accomodations
Accomodations
HOTELS
Grand Hotel di Como****
COMO, VIA PER CERNOBBIO, TEL. 0315161
WWW.GRANDHOTELDICOMO.COM
Modern, rational design, conveniently positioned between Como and Cernobbio, the ideal spot for business travellers. Renovated rooms, furnished with refined elegance, jacuzzi shower. Fitness centre with Turkish bath and sauna.
Terminus****
COMO, LUNGOLARIO TRIESTE 14
TEL. 031329111
WWW.ALBERGOTERMINUS.COM
Located in an early 20th century building, refined Liberty-style settings, decorated ceilings and mosaic flooring. Rooms with antique furnishing, good comfort and quality fittings.
Centrale***
CERNOBBIO, VIA REGINA 39
TEL. 031341900
WWW.ALBERGO-CENTRALE.COM
Set in the old town centre, 50 m from the lake, a late 19th century villa, renovated, though still retaining the old atmosphere in elegant and welcoming settings. Homonymous restaurant, built in an old stone cellar.
Tre Re***
COMO, VIA BOLDONI 30, TEL. 031265374
WWW.HOTELTRERE.IT
Central, near piazza Duomo, enclosed by the walls of a 16th century convent; ample rooms, and restaurant offering Lombard specialities.
RESTAURANTS
Barchetta
COMO, PIAZZA CAVOUR 1, TEL. 0313221
WWW.HOTELBARCHETTA.IT
Refined settings, with panoramic view on the lake and town, a meeting place for business luncheons or refined dining. Lake fish courses, but wait for surprises: a variety of risotto with perch, almond lavarello, small bites of monkfish with asparagus.
Il Pendolo
COMO, VIA MAURIZIO MONTI 86
TEL. 031302876
WWW.RISTORANTEILPENDOLO.IT
CLOSED SUNDAY
Warm, informal settings spread out on three floors, with charming cellar-wine shop well-stocked with a good choice of labels. Surprise menu with meat and seafood, try-outs included.
Il Solito Posto
COMO, VIA LAMBERTENGHI 9
TEL. 031271352
WWW.ILSOLITOPOSTO.NET
CLOSED MONDAY
At the heart of the old town centre, welcoming establishment with original stone ceilings, period furniture. Local cuisine, though skilfully revisited, expert, friendly service.
Nightlife
Nightlife
Spend a relaxing evening walking along Como's Lungolario, a stone's throw from the old town centre buzzing with ice-cream parlours and cafés. Catch a stunning glimpse on the lake and the overlooking period villas.
Birrificio Italiano
LURAGO MARINONE, VIA CASTELLO 51
TEL. 031895450, WWW.BIRRIFICIO.IT
Own beer and a few dishes washed down with the queen beverage of the house. Large hangout with beam ceiling, convenient, peaceful summer garden, music and cultural events.
Shopping
Shopping
Pasticceria Carlo Belli
COMO, VIA PORTA 8
TEL. 031264287
WWW.PASTICCERIABELLI.IT
Delicacies include the Belli cake, original recipe dating back to 1915, the larianella, the Jolanda cake and the "resta", typical Como cake.
Diffusione Seta Outlet
COMO, VIA PAOLI 3
TEL. 031523800
Every accessory for the best designer clothing, including Ken Scott, Balestra and Basile. Silk and wool apparel, good bargain for your money.