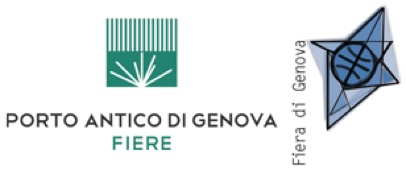 exhibitional
Indoor square meters
98900
Outdoor square meters
Pavilions
congressional
Seats
Plenary seats
Rooms
facilities
Refreshment areas
Entrances
Parking spaces
Description
Description
Genoa's exhibition center, located in the heart of the city and overlooking the sea was built in the early 1960s thanks to a complex filling operation. The overall project was developed by the urban project engineer Luigi Carlo Daneri. The current exhibition area includes the Blue Pavilion designed by Atelier Jean Nouvel and large open spaces, a tensile structure on the sea and two large marinas able to accommodate boats measuring up to 80 meters.
The Blue Pavilion, opened in 2009, is a multistory structure with two floors of exhibition space and an intermediate floor with conference rooms, service areas and offices. The total exhibition space available corresponds to 20,000 square meters. The extensive use of glass surfaces and mirror-like ceilings perfectly integrates the building with the sea water surrounding it.
The marina in front of the Blue Pavillion measuring in total nearly 40,000 square meters offers 200 berths lined up on two docks one of which presents an elevated panoramic walkway. A modern tensile structure measuring 9,000 square meters completes the area together with a service building hosting nautical activities, self-service bar and panoramic restaurant.
The second marina used for the International Boat Shows extends over 60,000 square meters of water surface and includes an adjacent square measuring 12,500 square meters.
Places to go
Places to go
Bastia Umbra is 15.5 km away from Perugia, the university city sporting a fresh, cosmopolitan aura, home since 1925 to foreign students, ennobled by a glorious cultural history. Perugia has lots of impressive monuments to offer, a picture gallery with its immense holdings, numerous activities, and pleasures galore for food lovers thanks to its chocolate industry.
Piazza IV Novembre The city's artistic centre and home to numerous monuments: Palazzo del Collegio dei Notari and Palazzo Donini, seat of the Regional Government, besides the 16th century main buildings, once home to urban aristocracy.
Corso Vannucci starts from here and branches out to form an enchanting maze of tiny arched and stepped streets.
Palazzo dei Priori Built in the 13th century, one of the most imposing buildings in Italy, housing the Umbria National Gallery with the largest collection of Umbrian paintings: a seat of honour is dedicated to Pietro Vannucci, also known as the Perugino.
Just a stone's throw away, piazza San Francesco; stop to make a worthwhile visit to the two adjoining churches of San Francesco al Prato and San Bernardino.
Surroundings
Surroundings
Corciano (14.5 km from Perugia), tiny town perched high up, a maze of winding streets and beautiful fortifications dating back to the 14th century.
Lake Trasimeno is undoubtedly worth a trip, the largest lake in central Italy, a circumference of 45 km, crowned by breathtaking landscapes of olive groves and vineyards.
Accomodations
Accomodations
HOTELS
La Rosetta****
PERUGIA, PIAZZA ITALIA 19
TEL. 0755720841
WWW.PERUGIAONLINE.COM/LAROSETTA
Located right at the heart of town, hotel built from a completely renovated 18th century edifice. Air-conditioned, elegant furniture, restaurant set in cool terrace-garden.
La Villa****
LOCALITÀ BASTIOLA (1 KM DA BASTIA
UMBRA) SS 147 ASSISANA 124
TEL. 0758010011
WWW.ASSISIONLINE.COM/LAVILLA
End 19th century villa, fully renovated, wide range of services, swimming pool, park and restaurant offering local specialities.
Perugia Plaza Hotel****
PERUGIA, VIA PALERMO 88, TEL. 07534643
Near the old town centre and Prepo hill, modern, functional hotel with elegant settings. Fitness centre, sauna and Turkish bath.
Lo Spedalicchio***
LOCALITÀ OSPEDALICCHIO (5 KM
DA BASTIA UMBRA) PIAZZA BUOZZI 3
TEL. 0758010323
Nestled in the peaceful Umbrian countryside, overlooking the central square of the tiny hamlet, 14th century stronghold, skilfully restored and furnished with Oriental carpets, 16th century prints and elegant 17th century furnishing. Restaurant with renowned regional cuisine.
RESTAURANTS
Antica Trattoria San Lorenzo
PERUGIA, PIAZZA DANTI 19
TEL. 0755721956
CLOSED SUNDAY IN WINTER
Intimate and elegant eatery, original cuisine steeped in Umbrian tradition. Extremely assorted menu, wide range of cheese and typical salumi
Caffè di Perugia
PERUGIA, VIA MAZZINI 10/14
TEL. 0755731863
CLOSED TUESDAY
Ceiling with imposing 13th century vaults, "three faced" restaurant; meat and seafood, grill-pizzeria, wine cellar with meditated wine list.
Enoteca Giò
PERUGIA, VIA R. D'ANDREOTTO 19
TEL. 0755731100
CHIUSO DOMENICA SERA E LUNEDÌ
A MEZZOGIORNO/CLOSED SUNDAY EVENING
AND MONDAY AT NOON
Simple, tidy settings, good bargain for your money and genuine cuisine steeped in tradition. Great variety of wine.
Grifone
PERUGIA, VIA S. PELLICO 1
TEL. 0755837616
CLOSED SUNDAY
Mediaeval Umbrian ambiance, wood decorations on the walls, charming French Gothic fireplace; specialities include taglierini alla francescana, crostone Grifone and grandma's cakes.
Nightlife
Nightlife
Corso Vannucci is the trendiest spot in town, a place for fun and excitement. Pubs and cocktail bars to please every taste, the favourite place chosen by the Perugini for appetizers and after dinners, or just to take the traditional stroll.
Cinastik
PERUGIA, VIA DEI PRIORI 39
TEL. 0755727796
Well-stocked wine bar, spicy snacks and cocktail bar, a nice spot to spend a cheerful evening in, to the sound of good music, sometimes live.
Il Birraio
PERUGIA, VIA DELLE PROME 18
TEL. 0755723920
Brewpub with homemade beer. One of the best places to go after dinner. New Arab-style wing, embellished with carpets and cushions to relax on.
Shopping
Shopping
Gastronomia Gaggi & Gaggi
PERUGIA, PIAZZA DANLAZIO BIRAGO 49
TEL. 07532315
Truffle pecorino cheese, pecorino flavoured with saffron, and caprino with herbs, Umbrian salumi, cheese pizza and torta al testo.
Spaccio Luisa Spagnoli
PERUGIA, STRADA S. LUCIA 35
TEL. 075459329
Fine womenswear by Luisa Spagnoli, both casual and elegant. Accessories also on sale. 50% discount.