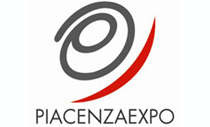 exhibitional
Indoor square meters
14000
Outdoor square meters
7000
Pavilions
3
congressional
Seats
574
Plenary seats
334
Rooms
3
facilities
Refreshment areas
Entrances
Parking spaces
2400
Description
Description
Inaugurated in 2000, the Piacenza Expo Fair Centre is strategically positioned,b 500 m away from the Piacenza Sud and Piacenza Est exits, near the two main Italian motorway routes (A1 Milan- Bologna and A21 Turin-Brescia) and the road, rail and airway connections in northern Italy. Thanks to its ideal location, Piacenza is the natural crossroads of trade flows between the two north-south and eastwest axes on the Italian and European territories. Piacenza Expo is a modern architectural complex built to the quality standards of the most innovative fair centres in Italy. Special attention has been attached to comfort, brightness and flexibility of the interiors, and to the usability of facilities and services. The Fair spreads over a total surface of 80,000 m2, 15,000 m2 of which roofed, with two cabled, single-floor exhibition pavilions, fitted with the best in technology, plus 8,000 m2 of space outside the fairgrounds. Capping the offer, two entrance areas, a central service complex (hosting meetings, press room and refreshment spots) and a 340-seat auditorium equipped with leading-edge audio/ video technology. A brand-new 3000 m2 pavilion was completed in September 2006. Besides exhibitions, the Fair also hosts conventions, business meetings and minor gatherings, depending on organizational requirements. The single-floor spaces help streamline fitting operations, allow for a much more flexible and modular use, and give organizers the chance to offer an effective "turn-key" service in one, single location: such pluses have helped Piacenza Expo embark on congress activities, today a pivotal element for the local economy and for the ensuing increase of tourism in town. Moreover, the scores of small and medium businesses scattered across the area guarantee the Fair a dynamic productive environment, in its capacity as the international sounding board of local excellence.
Places to go
Places to go
Strategically situated on the Po, Piacenza is a borderline city, the gateway of Emilia coming from the North, whose peaceful, easy provincial features bear the main imprint of Lombardy, but also of the other two bordering lands. A place to see to the max, rich in artistic assets, with an extensive old town centre.
Duomo Built between 1122 and 1233, its design is extremely complex, its base Romanesque with Gothic elements added on. Latin-crossed interiors with nave and two side aisles feature a mix of the two styles and important paintings.
Palazzo Gotico Dominating Piazza dei Cavalli, the main square of Piacenza, built starting from 1281, features two orders: the lower section with white and pink marble arch, and the upper section with its threelight windows framed by fine terracotta arched lintels.
Palazzo Farnese Museums Several museums are housed in this huge complex outside the centre: the Museum of Archaeology, the Town Museum, the Museum of the Risorgimento, the Picture Gallery, home to Botticelli's masterpiece of the Virgin adoring the Child with Saint John, and the Coach Museum.
Surroundings
Surroundings
Bobbio (50 km south of Piacenza) This tiny town is a treasure trove of nature and hospitality. Famous also for its Gobbo Bridge, Bobbio lies at the heart of the Trebbia valley, reputed by Hemingway as one of the world's most beautiful.
Accomodations
Accomodations
HOTELS
Class Hotel Piacenza Fiera****
LOCALITÀ LE MOSE (6 KM DA PIACENZA)
TEL. 0523606091
WWW.CLASSHOTEL.COM
Recently built, along the road to Caorso, inside the Fair Centre. All sorts of comfort, Internet connection fitness centre, "Sapori di Piacenza" restaurant with vast assortment of food.
City***
VIA EMILIA PARMENSE 54
TEL. 0523579752
WWW.HOTELCITYPC.IT, MEUBLÉ
Set in a peaceful position near the main arteries, recently built, warm, welcoming settings, well fitted rooms.
Holiday Inn***
VIA EMILIA PAVESE 114/A
TEL.0523493811
WWW.HOLIDAY-INN.COM/PIACENZA
Located at the city gates, conveniently positioned to reach the motorway, comfortable, air-conditioned rooms.
Nazionale***
VIA GENOVA 33
TEL. 0523712000
WWW.HOTELNAZIONALE.IT, MEUBLÉ
Town centre, establishment with good fittings and elegant furniture; suites also available with prices to fix.
RESTAURANTS
Peppino
VIA ROMA 183, TEL. 0523329279
CLOSED MONDAY
Small spot, located in the old town centre, glorious management and long-standing cuisine traditions, mainly based on seafood: astice alla catalana, tortellini with European sea bass, turbot fillet with almonds, homemade sweet pastry.
Piccolo Roma
VIA CITTADELLA 14, TEL. 0523323201
CLOSED SATURDAY AND SUNDAY EVENING
Refined settings with period furniture. Cuisine steeped in tradition: culatello and fried gnocco, pisarei and fasö, fresh pasta, braised donkey, zabaione in tazza.
Vecchia Piacenza
VICOLO S. BERNARDO 1, TEL. 0523305462
CLOSED SUNDAY, JANUARY AND JULY
Walls and vaulted ceilings decorated with frescoes by the chef's wife-artist, tiny settings, few tables, so reservations are advisable. Risottos, traditional Piacenza dishes revisited, and a wide variety of meat.
Nightlife
Nightlife
Evening hangouts aren't all crammed in the old town centre, some can be found though between piazza Cavalli and the neighbouring streets. Quite a few events are organized in town, namely concerts, theatrical shows, cultural gatherings and street shows.
Aiglon café
VIA BEVERORA 1, TEL. 0523322827
Several floors, pub located at the heart of town, embellished by a beautiful fireplace that warms the winter nights. Excellent choice of spirits and grappe.
Antica Pieve di Vernasca
VIA CHIESA VECCHIA 2, TEL. 0523801141
Atmosphere and music in the open air, in the wonderful settings at the foot of the 14th century bell tower, where history and modern times merge to create a charming atmosphere. Mainly young and cheerful clientele, live music every night.
Shopping
Shopping
Salumeria Garretti
PIAZZA DUOMO 44, TEL. 0523324758
During the winter months, this famous delicatessen offers homemade salumi and carefully selected products by Norcia's artisans.
Driade
CAORSO, VIA PADANA INFERIORE 12
TEL. 0523818655, WWW.DRIADE.COM
Outlet run by the famous company, selling furnishing items, and gift and fancy goods from various exhibitions. Wide range of sofas, armchairs, chairs and tables. Gift and fancyarticles include: collection vases, plates and glasses. Also furnishing accessories such as curtains, quilts and duvet covers. Great discounts