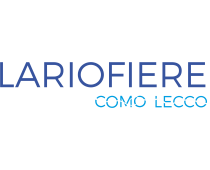 exhibitional
Indoor square meters
11300
Outdoor square meters
30000
Pavilions
3
congressional
Seats
1800
Plenary seats
300
Rooms
facilities
Refreshment areas
Entrances
Parking spaces
Description
Description
The Lario Fiere exhibition centre is seated in Erba, in the middle of the Lariano triangle, 15 km from Como and from Lecco and 40 km from Milan. A strategic position to explore the Lariano area, rich in history and thriving with activity, not by chance named the Lake of Ideas. Deeply rooted in the area, for both size and quality of services, the Fair is one of the major exhibition centres in Lombardy. A multifunctional space, the complex covers an area of 52,019 m2, 13,302 of which roofed. Exhibitions are held in three roofed, self-standing pavilions, interconnected by an 850 m2 core section, where public and exhibitors' services are hosted. A layout that allows the organization of separate or simultaneous events, all'agricoldepending on exhibition requirements. Three halls are arranged to host conferences, an activity strongly supported by the Fair. Fitted with leading-edge technology, the halls can accommodate from 60 to 300 seats. If required, provisional halls may be arranged with an accommodation capacity of about 1,800 people. Technical and logistical assistance, plus tourist and accommodation services cap the offer. As a well-organized and flexible complex, the Fair is qualified to arrange exhibition spaces also during congress events. Numerous spaces are used to make the centre more functional: from the 750 m2 for the warehouse, to the 350 m2 for the restaurant and bar. Many services are dedicated to different kinds of users (Internet point, press office, nursery). Over the past few years, Lario Fiere has extended and renovated spaces to improve the quality of the centre. The conference halls and the internal and external service areas have been renovated. A further 14,000 m2 have been acquired, which add to the 38,717 m2 of the external area. Most of the area has been used for an equipped parking facility capable of hosting up to 1,000 cars. The external space has a further 4,500 m2 of gardens equipped to host open-air shows and expos. Today, Lario Fiere has become a successful exhibition centre, the ideal venue to showcase and market products, and the perfect place to hold congresses, conventions and cultural and sports events. It is the place where businesses and the public at large meet.
Places to go
Places to go
Stretching on the slopes of the Valassina and the water expanses of lakes Alserio and Pusiano, Erba was long known as a popular holiday resort, a vocation still witnessed today by the noble villas ringing the town.
Piano d'Erba Once considered one of the most pleasant spots in Lombardy, for the breathtaking mix of mountains, lake and plain, is dotted with Baroque and Neoclassical noble residences tucked into a spectacular landscape. These old exclusive villas, today open for public use, include: Villa Maioni, 18th-19th century residence, today the town hall; Villa Amalia, fine structure built from the interiors of a 15th century convent. Cravenna hosts the 18th century residence now home to the local Archaeological Museum, with a large number of findings unearthed across the area, proof of its importance already way back in ancient times.
Surroundings
Surroundings
Lecco (19 km from Erba). At the tip of "the arm of Lake Como…" extolled by Manzoni, Lecco has that stern, typically industrial 19th century look, with a scenery that seems at times to be blanketed by its economic infrastructures. Conjured up by the collective imagination mostly for its characteristic suburbs narrated by Manzoni.
Accomodations
Accomodations
HOTELS
Leonardo da Vinci****
ERBA, VIA LEONARDO DA VINCI
TEL. 031611556
WWW.HOTELLEONARDODAVINCI.COM
Built in 1994, comfortable settings, with good services and facilities like the sizeable rooms with modern furnishing and internet station; restaurant with elaborate cuisine.
Giordano****
LECCO, LUNGOLAGO CADORNA 20
TEL. 0341367160, WWW.APTLECCO.COM
MEUBLÉ
Opposite the lake, peaceful, sober and detailed establishment; suites also available, sweet breakfast buffet.
Moderno****
LECCO, PIAZZA DIAZ 5, TEL. 0341286519
HOTEL.MODERNO@PROMO.IT, MEUBLÉ
Town centre, late 19th century building close to the railway and bus station, traditional familyrun establishment without board, functional comfort (two suites available), breakfast buffet.
RESTAURANTS
Vispa Teresa
ERBA, CORSO XXV APRILE 115
TEL. 031641667
CLOSEDMONDAY
Classical restaurant with three welcoming rooms and bright veranda. Cooking ranges from meat and seafood to pizza; also cheap fixed-price and tourist menu available. The house offers culatello di Zibello with butter, pappardelle with shredded beef and curry, fresh swordfish with chopped herbs, homemade cakes and ice-cream.
Al Porticciolo
LECCO, VIA VALSECCHI 5, TEL. 0341498103
BRUNO.FERRARI1@TIN.IT
OPEN EVENINGS ONLY, EXCEPT HOLIDAYS, CLOSED MONDAY AND TUESDAY
Open evenings only, except holidays, closed Monday and Tuesday Situated in a 17th century farmhouse, eatery with fireplace and soothing music under age-old vaults. The menu offers flat sole in vinaigrette with spinach, black tagliolini with mussels, clams and grey mullet roe, turbot with lentils and pioppini, and a mouthwatering mammoth grilled seafood.
Osteria del Viaggiatore
LECCO, CORSO PROMESSI SPOSI 19
TEL 0341368728
WWW.OSTERIADELVIAGGIATORE.IT
OPEN EVENINGS ONLY, HOLIDAYS ONLY AT NOON
Charming ambiance, rustic and discrete style, built from 18th century walls. The cuisine offers meat and seafood, and draws inspiration from the recipes of various regions. Try out the lavarello fillets sprinkled with lemon, vast assortment of salumi and cheese, well-stocked cellar.
Nightlife
Nightlife
A stroll to the Lecco port, the town's business centre, is always a pleasant experience, stopping to sip a drink or enjoy an ice cream in one of the cafés facing the sharp, rocky walls overhanging the lake. Or you can venture to the surrounding Brianza with its cool pubs and beer houses, where the Milanese usually flee to take a refreshing breath of mountain air.
Al Bistrot
SANTA MARIA HOÈ
VIA PAPA GIOVANNI XXII 55
TEL. 0395311746
Excellent eatery to enjoy the evening in, cheap too. The rustic interiors create a warm and friendly atmosphere; try the typical flavours of Brianza cooking. Evenings are organized where everything, from hors d'oeuvre to cakes, is a variation on one single theme: pumpkin, pore mushrooms, chocolate...
Shopping
Shopping
La Nuova Casa del Formaggio
LECCO, VIA ROMA 81, TEL. 0341362493
Well-supplied store packed with every variety of cheese from Valassina and Valtellina, robiola, taleggio, bitto, casera and scimudin.
Factory Store
VERTEMATE CON MINOPRIO, PROVINCIALE
PER BRIGNANO 13, TEL. 031887373
Old Armani collections: Giorgio Armani, Armani Collezioni, Armani Jeans, Armani Junior, Armani Casa. 50 to 80% discounts.