ITALIAN EXHIBITION GROUP S.P.A. - VICENZA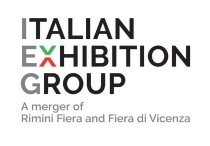 exhibitional
Indoor square meters
70500
Outdoor square meters
Pavilions
7
congressional
Seats
1200
Plenary seats
700
Rooms
3
facilities
Refreshment areas
Entrances
Parking spaces
600
Description
Description
There remains a warm memento in the current exhibition centre, in witness of the historical seat of the Fair in the Giardini Salvi from 1948 to 1971: the small artificial river, evoking the river Seriola of the Giardini Salvi, and running along the central axis of the F and G pavilions. A tribute to a collective past deeply rooted in the Fair's local area and history. The new complex, designed in the early Seventies on a project by famed Milanese architect and designer Marco Zanuso and by architect D'Avanzo, lies at the centre of the industrial area west of Vicenza, 500 m away from the motorway toll gate. A modern structure spreading over 70,500 m2, with 13 pavilions. The distinctive element of the whole facility is the pyramid design of the central pavilion. In tune with the local gold vocation, Vicenza's economic driver, over 50,000 m2 are occupied by the area in via dell'Oreficeria, hosting the sector's events. The 6,000 m2 of the Leonardo Pavilion have also recently hosted Oromacchine, the exhibition of machinery, technologies and equipment for gold jewellery.
Places to go
Places to go
A city of art boasting masterpieces of unmistakable beauty, showcasing the genius of Palladio, Vicenza has fossilized the Roman centre in its urban layout inside the medieval city, crowning it with Renaissance traits. Symbol of renewal in continuity, Vicenza is a flourishing economic centre of worldwide renown.
Piazza dei Signori The centre of Vicenza, split up into three piazza (dei Signori, delle Biade, delle Erbe) and Piazza del Palladio, all revolving around the imposing Basilica, a blend of different cultural moments, renovated by Palladio starting from 1546. Opposite the Basilica, the monumental Loggia del Capitanato is yet another masterpiece by Palladio, only partly built.
Corso Palladio Main axis in the city layout, home to many important buildings, such as Palazzo Da Schio.
Teatro Olimpico Palladio's last extraordinary feat, started in 1580, enclosed by the walls of Palazzo del Territorio, embellished with remarkable decorations.
Surroundings
Surroundings
An itinerary on foot along the city hills leads you to three "holy" monuments: the Basilica of Monte Berico, from the homonymous square; the Bertolo-Valmarana Villa, taking viale X Giugno, then viale d'Azeglio; following the path, behold, the Rotonda, a Palladio masterpiece and the quintessence of Renaissance-style villas.
Accomodations
Accomodations
HOTELS
Alfa Fiera****
VIA DELL'OREFICERIA 50
TEL. 0444565455
WWW.ALFAFIERAHOTEL.IT, MEUBLÉ
Near the Vicenza-Ovest motorway exit, modern, functional establishment (rooms fitted with safe, marble bathrooms, several with jacuzzi).
Europa****
SS PADANA VERSO VERONA 11
TEL. 0444564111
WWW.SOGLIAHOTELS.COM
Conveniently positioned between the town centre and the Fair, extreme comfort and high service standards, air-conditioned, well-fitted rooms. "Le Ville" restaurant offering Vicenza specialities, amidst bamboo furnishing.
Quality Inn Viest****
STRADA PELOSA 241, TEL. 0444582677
WWW.VIEST.IT
Modern, functional hotel, situated at the Vicenza-Est motorway exit, extended by using the best techniques in the hotel business. Cheerful, bright rooms, with pluses such as modem socket, jacuzzi and safe.
Victoria***
SS PADANA VERSO PADOVA
TEL. 0444912299
WWW.HOTELVICTORIAVICENZA.COM
Modern, multifunctional structure on the outskirts of Vicenza: a more recent wing has been added with new junior suites and miniapartments fitted with every comfort (including jacuzzi). Classical restaurant offering Veneto cuisine.
RESTAURANTS
Antico Ristorante agli Schioppi
CONTRÀ DEL CASTELLO 26
TEL. 0444543701
WWW.RISTORANTEAGLISCHIOPPI.COM
CLOSED SATURDAY EVENING AND SUNDAY
19th century building, located in the old town centre, halls fitted with poor art furnishing, summer dehors, traditional cuisine, with main courses including stockfish Vicenza-style and typical dishes with season products.
Cinzia e Valerio
PIAZZETTA PORTA PADOVA 65/67
TEL. 0444505213
SUNDAY EVENING AND MONDAY
Old city walls, elegant, welcoming settings in a typical "Venetian court" atmosphere. Great selection of fish and shellfish.
Storione
SS PASUBIO 62
TEL. 0444566244
CLOSED SUNDAY
Comfortable, elaborate ambiance, cuisine offering delicious fish, risotti, soup, fresh pasta, grills; homemade confectionery, good choice of wine.
Nightlife
Nightlife
Strolling from piazza dei Signori to piazza delle Erbe or piazzetta del Palladio, in such enchanting settings, discover the pleasant bars, retro cafeterias or wine cellars, with tables outside in summer.
Enoteca Bar al Grottino
PIAZZA DELLE ERBE 2, TEL. 0444320138
Under the arcades of the Basilica, this hangout has no particular charm, though it draws scores of youngsters in the evening, most of them staying outside drinking on the pavements.
Shopping
Shopping
Lo Spaccio s.r.l
ROMANO D'EZZELINO, VIA SPINO 89/9
TEL. 0424382023
Underwear, corsetry and costumes by Liberti. Menswear by Calvin Klein, Punto Blanco and Master, womenswear by Liberti, Cotton Club and Calvin Klein. Beach towels and robes also on sale.
Spaccio Belfe
MAROSTICA, VIA INGEGNER FESTA
E CORSO DELLA CERAMICA 76
TEL. 0424470709
This store in via Ingegner Festa offers the season's casual and sports attire for men and women by Belfe, with 30% discounts. The other store in corso della Ceramica has previous year leftovers with great bargains and 80% discounts.