FIERA DI ROMA
A bridge between the North and the South of Italy and of Europe.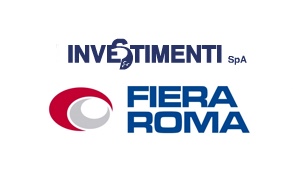 exhibitional
Indoor square meters
80000
Outdoor square meters
390000
Pavilions
10
congressional
Seats
5000
Plenary seats
1053
Rooms
13
facilities
Refreshment areas
13
Entrances
4
Parking spaces
7000
Description
Description
The great architecture work, designed by Arch. Tommaso Valle, is a futuristic Business Center.
Rome is an inernationally renowned tourist destination in a strategic position between the North and the South of Italy and of Europe, in the epicentre of economic flows in the middle of the Mediterranean: a bridge between old and new markets.
Served by a transport network that makes it easily accessible, Fiera Roma is a modern and multifunctional trade fair district, extending over a gross surface area of 390,000 sqm.
The extreme versatility of the Structures, designed to hold more events at the same time, the wide range of services offered, the advanced technology and the efficient organisational machine, make Fiera Roma the ideal venue for trade fair exhibitions and events, of national and international scope.
Places to go
Places to go
Fiera Roma is the only one able to offer an all-round experience, such as the discovery of Rome, one of the most ancient and beautiful cities in the world. A short distance from the international Fiumicino Airport, it can also be easily reached from the city center by train, bus, taxi or car.
Don't miss the next appointments in the Calendar.
Surroundings
Surroundings
For an all-round experience in the Eternal City and its surroundings, Fiera Roma suggests not to miss a visit nearby Ostia Antica: its village, the Castle of Giulio, the archaeological park, the Roman theater and the waterfront with the marina.
Also nearby: the archaeological area and necropolis of Porto in Isola Sacra, the fishermen's hamlet and the Castelfusano pine wood, the Fiumicino Ship Museum and the Roman Litoral StateNatural Reserve, the Fregene and Maccarese beaches.
Fiera Roma is very close to EUR roman district, with 'Palazzo della Civiltà'/palace of civilization (even called the Square Colosseum), with the EUR lake Park with its "Japan Walk": a beautiful route through marvelous Sakura - cherry trees - which were donated to Rome from the city of Tokyo in 1959 and which, from March to May, offer their wanderful magnificent blossoming.
And for those who would immerse themeselves in a relaxing and wellness oasis, the QC Termeroma Center is located just 7km far from Fiera Roma.
Accomodations
Accomodations
Fiera Roma may offers to its Clients and Visitors several agreements with accredited Accommodation facilities, even near the Exhibition Center and in the City Center:
SHERATON PARCO DE' MEDICI ROME HOTEL **** S

HOLIDAY INN ROME EUR PARCO DEI MEDICI ****
PARCO DE' MEDICI RESIDENCE – HOTEL ***
TRILUSSA PALACE HOTEL****
Nightlife
Nightlife
Take a look at the program of Events in the City, to live an all-round experience:
Shopping
Shopping
Unmissable a stop among the endless shopping streets in the heart of Rome. A little hint for your purchases in a unique atmosphere in the world:
Via del Corso, Via del Babbuino, Via Condotti, Via Frattina, the Spanish Steps, Via Cola di Rienzo