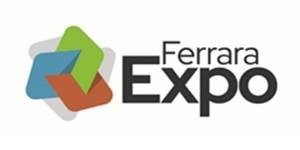 exhibitional
Indoor square meters
16000
Outdoor square meters
10000
Pavilions
6
congressional
Seats
900
Plenary seats
900
Rooms
4
facilities
Refreshment areas
2
Entrances
1
Parking spaces
1000
Description
Description
Ferrara Fiere Congressi lies 3 km away from the old town centre and 2 km from the Ferrara Sud toll booth. An ideal geographical location connecting it to the Bologna and Modena fairs, forming an unparalleled synergy on the international trade-fair scene: 200,000 m2 of exhibition space enclosed in an area of 30 km. Built in 1989 by architect Vittorio Gregotti, the Centre is a refined complex tucked neatly in the surrounding environment, boasting leading-edge trade-fair standards. The entire fairgrounds spread over a surface of 10 ha, with parking facilities and enclosed squares connected to the complex's main body. The architectural design has a T-shaped layout with six interconnecting pavilions, and four service structures spreading over a total conoroofed area of 18,000 m2. The entire exhibition area is spread out on a single level to streamline fitting operations. In 2002, part of the structure was turned into a congress centre, with a modular hall seating from 400 to 1,000 people, plus 5 other meeting halls for 50 to 160 seats, to make the space further multifunctional. The restyling allows the concurrent organization of both trade-fair and congress activities, with the possibility to combine workshops with ample exhibition areas. The external area spreads over 10,000 m2 and lends itself to hosting open-air events, with a free parking area equipped to accommodate over 1,000 cars. Ferrara Fiere Congressi must be credited for having succeeded in combining the aesthetics of its exhibition spaces with the functionality of its facilities: a winning duo for the Fair Centre, whose main field of activity involves art and cultural assets.
Places to go
Places to go
Its fascinating history ennobled by wonderful monuments, Ferrara has captured the imagination of philosophers and writers. The city owes its artistic splendour to the Este family, who set up an important school of painting and literary circle. Ferrara can be visited entirely on foot, so start walking!
Cathedral Built between the XII and XVI centuries, the typical Romanesque façade also features characteristic Gothic decorations. Admire the central portal with its bass relief decorations depicting the Last Judgement. The bell tower is a Renaissance design.
Estense Castle Built in the XIV century, superb frescoes in the Hall of Games and the Bacchanalia Room. Pay a visit also to the dungeons.
National Picture Gallery In Palazzo dei Diamanti, splendid frescoes and a sleeping Virgin by Carpaccio. The ground floor hosts temporary exhibitions. Aside the Picture Gallery, a small museum of paintings by Giovanni Boldini.
Surroundings
Surroundings
Delizia del Belriguardo (Voghiera, 17.3 km from Ferrara), summer residence of the Este, still retains part of its old glory: this small Italian resemblance of Versailles deserves the trip to view the Vineyard Hall, beautifully frescoed by the Ferrara school, and the Roman necropolis of Voghenza and adjoining Voghiera museum.
Accomodations
Accomodations
HOTELS
Best Western Astra ****
VIALE CAVOUR 55, TEL. 0532206088
WWW.BESTWESTERN.IT/ASTRA_FE
Right at the heart of the old town centre, located in a 1950s building, rooms and suites with air-conditioning, computer and Internet link.
De la Ville****
PIAZZALE STAZIONE 11, TEL. 0532772635
WWW.HOTELDELAVILLEFERRARA.IT
Opposite the railway station, modern complex, ideal for business travellers. Ample rooms, renewed furnishing, restaurant offering local and international specialities.
Nettuno***
VIA PIGNA 5/7, TEL. 0532977155
WWW.NETTUNOHOTELS.IT
Old town centre, hotel built in 1997, fitted with every modern comfort.
Orologio***
VIA DARSENA 67, TEL. 0532769576
WWW.HOTELOROLOGIO.COM, MEUBLÉ
Exclusive establishment, four categories of rooms to offer the best personalized solution. Beauty centre treatment.
RESTAURANTS
Il Don Giovanni
CORSO ERCOLE I D'ESTE 1
TEL. 0532243363
WWW.ILDONGIOVANNI.COM
OPENED FROM TUESDAY TO SATURDAY EVENINGS AND SUNDAY AT NOON,
CLOSED MONDAY, CHANGEABLE HOLIDAYS
In an 18th-century building, situated right at the heart of the old town centre, highly credited also for its food and wine offer, well-balanced dishes and strong flavours. Vegetables are grown in the family garden. Homemade confectionery.
Max
PIAZZA DELLA REPUBBLICA 16
TEL. 0532209309
CLOSED MONDAY AND SUNDAY AT NOON, PART OF JANUARY AND AUGUST
In the old town centre, specialized in seafood. National and foreign cheese, especially in winter. The menu offers raw fish and shellfish, sea urchin, ravioletti stuffed with whipped stockfish and truffles.
Oca Giuliva
VIA BOCCACANALE DI S. STEFANO 38
TEL. 0532207628
CLOSED MONDAY AND TUESDAY AT NOON, FROM CHRISTMAS TO EPIPHANY AND PART OF JUNE AND AUGUST
Rustic, elegant atmosphere, traditional cuisine with seasonal ingredients and well-stocked wine cellar with over 600 labels. Summer service. The house offer includes stockfish wrapped in cabbage leaves and garlic sauce, truffle macaroni pasta pie Ferrara-style, salama da sugo with mashed potatoes, spoon desserts.
Nightlife
Nightlife
The Ferrara movida usually takes place from via Contrari to via degli Adelardi, enlivened by scores of cocktail bars and wine cellars. Ferrara hosts various cultural happenings: from theatre to music, cinema and literary events.
Al Brindisi
VIA DEGLI ADELARDI 11, TEL. 0532209142
Excellent wine, food also served, fair prices.
Fusion Bar
VIA DELLE SCIENZE 8, TEL. 0532201473
American Bar and restaurant, wine shop and great cocktails. Large area arranged for painting exhibitions.
Shopping
Shopping
Marchetti
VIA CORTE VECCHIA 35/37
TEL. 0532204800
Traditional store located at the heart of town. Specialities include salamina da sugo, salami marinated in garlic, salame, pig head sausage and the traditional Ferrara zia. Also fresh homemade pasta.
Pasticceria Leon d'Oro
PIAZZA CATTEDRALE 2/10
TEL. 0532209318
Ample, bright settings with bars laden with typical Ferrara confectionery: pampepato, mandorlini, doughnuts and an original macaroni pasta pie covered with sweet pastry dough.