DELIVERING BUSINESS OPPORTUNITIES
World leader in the agro-zootechnical sector and in the field of high-quality musical instruments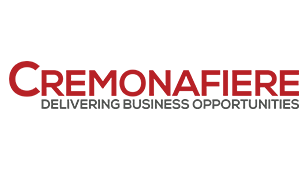 exhibitional
Indoor square meters
48132
Outdoor square meters
26000
Pavilions
4
congressional
Seats
1000
Plenary seats
300
Rooms
9
facilities
Refreshment areas
3
Entrances
3
Parking spaces
3223
Description
Description
WORLD LEADER IN THE AGRO-ZOOTECHNICAL SECTOR AND IN THE FIELD OF HIGH- QUALITY MUSICAL INSTRUMENTS Exhibitions based on great expertise and manufacturing excellence
CremonaFiere works all the year round to connect exhibitors and international highly-qualified partners thus providing a useful platform to develop new business opportunities, to establish collaborations and to enhance professional networks. Thanks to the effectiveness of its exhibitions, CremonaFiere has been recognized by the Italian Ministry of Economic Development as a representative of the Made in Italy for animal husbandry and musical instruments.
INTERNATIONALIZING COMPANIES BUSINESS A powerful marketing tool to reach international markets With its 17 scheduled exhibitions, among which 4 international events, CremonaFiere welcomes every year more than 1.100 exhibitors from 25 countries and 150.000 visitors from over 40 countries.
BUILDING PROFESSIONAL COMMUNITIES The favourable environment to cultivate new business relations CremonaFiere has a large database including over 100.000 contacts of international professional operators from the core areas involved in its exhibitions. Moreover, it constantly collaborates with more than 200 Research Centres, Universities, Associations and International Institutions. New business opportunities develop during the exhibitions which create the ideal environment for professionals to meet each other, to exchange opinions, ideas and food for thought.
CULTURE AS AN ADDED-VALUE Involving and connecting different professional categories and business environments CremonaFiere organizes high-quality exhibitions with a strong international character enriched by high-level cultural and artistic events and professional updating activities. In 2016 the programmes of events involved over 700 speakers and artists.
CUSTOMER-FOCUSED STRUCTURES AND SOLUTIONS Options are tailored to meet the unique needs of customers and to ensure the highest standards of quality As to the exhibition grounds, CremonaFiere has a covered area of 55.000 square metres with 4 modern pavilions and an open-air area of 100.000 square metres. The Congress Centre is suitable for every type of event: from congresses to company meetings, up to round tables and small-sized meetings. Nine conference rooms with a different capacity (20, 90, 100, 300 people) are appropriate to meet every organisational need.
Places to go
Places to go
http://www.cremonafiere.it/svago/