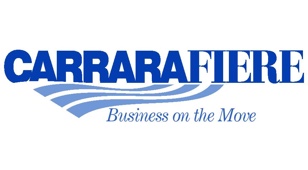 exhibitional
Indoor square meters
34000
Outdoor square meters
Pavilions
congressional
Seats
Plenary seats
Rooms
8
facilities
Refreshment areas
Entrances
4
Parking spaces
3000
Description
Description
Set up astride the border of Tuscany and Liguria, CarraraFiere is strategically located in central-northern Italy, and is easily reachable thanks to the dense network of fast connections (airports, railways and motorways). Built a stone's throw away from the Tyrrhenian Sea, 500 m away from the A 12 motorway, the Fair Centre sports an elegant, modern design, perfectly blending with its surroundings. The complex spreads over an area of 95,000 m2, 34,000 m2 of which roofed and hosting four pavilions, the latest completed in 2006, designed on leading- edge trade-fair standards, with no pillars or encumbrances to streamline fitting operations and adapt spaces to every exhibition requirement. The entire structure has been designed on a modular system based on flexibility and adaptability of the settings. The modern, multi-functional facilities are able to host both simple and complex events, guaranteeing maximum space usability. Glass and metal-roofed passageways provide for
convenient, consistent links connecting the pavilions. Capping the complex's offering, the Congress Centre, equipped with 6 halls for 30 to 700 seats, capable of concurrently hosting 1,200 attendants and fitted with the most innovative support technologies. A large Service Centre located at the centre of the exhibition areas hosts the whole range of useful services (bank, Internet point, travel agency, newspaper kiosk and engineering offices) designed to meet the needs of both exhibitors and visitors. The Management Centre, the company's HQ, is located in a unique construction designed by architect Angelo Mangiarotti. The external areas offer over 20,000 m2 of open exhibition surface that lends itself to hosting events for the public at large ranging from shows to concerts. The open areas boast a wi-fi Internet connection networking
the entire Fair Centre, while the parking facilities can accommodate more than 3,000 vehicles. The Fair Centre also benefits from quality accommodation services capable of satisfying every user need, thanks to the establishments located on the Apuan coast and in Versilia.
Places to go
Places to go
Carrara, the marble city par excellence. Pay a visit to the marble deposits and the many open-air quarries outside the city to admire a unique, breathtaking scenery. Or stroll along the streets of the old town centre, from piazza Matteotti, the hub of 19th century activities, to the pedestrian precinct of via Roma penetrating into the heart of the oldest part of town with the seat of the Academy of Fine Arts, which also encompasses the previous medieval castle. Opposite the church of the Carmine, via Santa Maria is one of the oldest and most characteristic streets in the medieval city: tradition has it that one of the old dwellings, the house at n. 14, with its marble façade and medieval bas-relief decorations, hosted Petrarca in 1343. Walk down the street to reach piazza del Duomo, with its Nettuno fountain. The core of the Duomo is Romanesque, with Gothic elements later added. Built from the XI to the XIV century entirely in Apuan marble, the top part of the facade is Gothic, featuring an imposing central rose window and fine loggia. From Piazza Alberica, via Alberica is a walk along the most beautiful buildings with façades completely in marble
Surroundings
Surroundings
Colonnata, just outside Carrara, with its square dominated by the austere stone bell tower, is a tiny perch nestled on the mountain. Colonnata is also home to the famous lard, aged for at least six months in Carrara marble pots.
Accomodations
Accomodations
HOTELS
Carrara***
AVENZA (1 KM DA MARINA DI CARRARA), VIA PETACCHI 21
TEL. 0585857616
WWW.HOTELCARRARA.IT
Built at the end of the 1980s, comfortable establishment, connected to Marina di Carrara by a scheduled bus service. Tuscan and classical cuisine, using Colonnata lard, typical salumi and Pontremoli olives.
Michelangelo***
CORSO F.LLI ROSSELLI 3, TEL. 0585777161
WWW.RIVIERATOSCANA.COM
MEUBLÉ
Located in the old town centre, in a 1960s building; rooms fitted with different styles of period furniture: a sort of gallery of antiques, with a bent for hospitality.
RESTAURANTS
Enoteca Ninan
VIA BARTOLI 32, TEL. 058574741
CLOSED SUNDAY
Normal home turned a few years ago into a small, intimate restaurant. Reservations are advisable. The cuisine offers local specialities based on meat and seafood, prepared with a special technical and modern touch: pigeon risotto, sea bass fillet in casserole with vegetables; sweet pastries include sorbet ice, biscottini and the delicious crème brulée.
Venanzio
LOC. COLONNATA (7 KM DA CARRARA)
PIAZZA PALESTRO 3, TEL. 0585758033
CLOSED SUNDAY EVENING AND TUESDAY
Fascinating establishment, elegant settings, tucked in a tiny town famous for its lard. The owner, who's also the lard maker, offers courses based on this tasty "fat", plus traditional dishes with an inventive twist: meat ravioli and herbs, bacon-fat fillet in Chianti sauce, rabbit with fresh herbs and truffle guinea fowl: as dessert, semifreddo with torroncino al profumo di Strega, all in charming settings, respectful service.
Locanda Apuana
LOC. COLONNATA (7 KM DA CARRARA)
VIA COMUNALE 1, TEL. 0585768017
WWW.LOCANDAAPUANA.COM
CLOSED MONDAY AND SUNDAY EVENING
This 1950s food store has become a typical Tuscan trattoria, the ideal spot for lard enthusiasts, served with figs, juniper, capers, onions and anchovy, and other traditional Lunigiana dishes: spelt and chickpea soup, ciccetta di maiale alla cavatora.
Nightlife
Nightlife
Carrara offers some interesting spots. For the more frenzied types, Marina di Carrara and the entire Versilia Riviera are the ideal environments with their scores of discos organizing shows and concerts also with famous artists.
Disco Bar Baraonda
VIA STRADELLA, 547, TEL. 0585807245
A historical Tuscan establishment, famous for its great concerts, ranging from cabaret to jazz, all high-quality. Wednesday and Thursday live events, other evenings DJ sets.
Tago Mago Lounge Cafè
VIA STRADELLA 20, TEL. 0585792583
Lounge cafè with vintage ambiance, turning into a pizzeria, wine bar, restaurant and discobar. Happy hour until 9 pm, live concerts on Tuesday and Friday, film club on Thursday and Sunday.
Shopping
Shopping
Lardo di Colonnata
LOC. COLONNATA, VIA COMUNALE
COLONNATA 2, TEL. 0585758093
Production and sale of Igp Colonnata lard, bacon and guanciale from Cinta Senese pigs and organic breeding.
Pastificio Moderno
PIAZZA DELLE ERBE 1, TEL. 058570433
Artisan laboratory centre producing various types of fresh pasta, including ricotta and spinach ravioli and potato ravioli; also cappelletti and meat tortelli, gnocchi and potato gnocchetti.