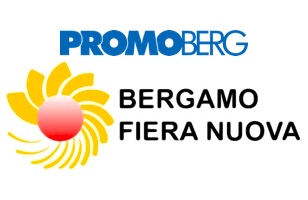 exhibitional
Indoor square meters
16000
Outdoor square meters
35000
Pavilions
4
congressional
Seats
540
Plenary seats
440
Rooms
3
facilities
Refreshment areas
5
Entrances
Parking spaces
2400
Description
Description
The new Exhibition Centre, surrounded by an extensive green area, enjoys an enchanting view on the historical upper city of Bergamo, and is strategically positioned. Inaugurated in 2003, the Fair is at the hub of a vast road network reachable from the main centres of northern Italy. The Fair is 3 km away from Orio al Serio Airport, and is well connected to Bergamo by an extremely organized public transport service. The architectural design, which took off in 2002, was developed by Essetitre from Ponteranica/ Bergamo. The Centre covers an area of 173,000 m2 and is split up into two roofed pavilions, built according to fair standards, with no central pillars, affording a more clear-cut layout for the stands. One of the pavilions acts as a multifunctional facility hosting sports, cultural and musical events. The spaces interconnect through the main body, a modern and functional element conceived down to the smallest details: from the marble flooring of the entrance decorated with arabesques and the large windows, to the new design of furnishing. The space also hosts the business area, additional accommodation services of the Fair (reception, catering), the congress hall and press room. The Fair's congress centre is a multifunctional facility formed by two halls, one able to accommodate 400 seats, which can be split up, if required, into two settings, and a smaller hall for 35 seats. Both halls are finely furnished and fitted with the latest technologies, and are able to meet every congress need. Capping the offer of exhibition spaces, a large equipped external area of 30,000 m2, 14,000 of which usable for fair events. The area is organized into large squares equipped with all the services required and ready to accommodatetemporary tensile structures to support the roofed exhibition space. The Fair Centre has large parking facilities for about 1,800 cars, while a further parking area for 1,100 cars is strictly for exhibitors.
Places to go
Places to go
City with a dual identity, the Città Bassa (lower city), the modern soul, fast-paced and bustling with business, the Città Alta (upper city), surrounded by medieval walls, with its magnificent buildings, enchanting squares and stunning sceneries squeezed in a tiny space.
Piazza del Duomo Monumental square in the Città Alta with its fine churches: the Duomo, Santa Maria Maggiore, the Colleoni Chapel and the Baptistery.
Colleoni Chapel Masterpiece of Lombard Renaissance, completed in 1476, and funerary chapel of condottiere Bartolomeo Colleoni. The interior abounds with 18th century decorations and features frescoes by G.B. Tiepolo embellishing the dome.
Accademia Carrara Picture Gallery The Academy holds one of the largest museum collections in Italy, displaying paintings by the leading Lombard, Veneto and Tuscan schools, and by German, French and Flemish masters.
Modern and Contemporary Art Gallery Inaugurated in 1991, it hosts temporary exhibitions and prestigious works on permanent show (Spajani Collection).
Surroundings
Surroundings
Caravaggio (58.6 km from Bergamo), likely birthplace of Michelangelo Merisi, place of pilgrimage for the nearby sanctuary of the Madonna di Caravaggio. Inside, where tradition has it that the Virgin Mary appeared to a peasant girl, a spring whose waters are claimed to be miraculous.
Accomodations
Accomodations
HOTELS
Excelsior San Marco ****
PIAZZA DELLA REPUBBLICA 6
TEL. 035366111
WWW.HOTELSANMARCO.COM
Situated right at the heart of town in a renovated building, at the foot of the Città Alta, elegant and refined rooms fitted with every comfort (direct fax in room if required).
UNA Hotel Bergamo ****
VIA BORGO PALAZZO 154, TEL. 035308111
WWW.UNAHOTELS.IT
Strategically positioned to access town, near the airport and motorway, spacey rooms, comfortable and bright, all fitted with jacuzzi and sauna shower.
Arli ***
LARGO PORTA NUOVA 12, TEL. 035222014
WWW.ARLI.NET, MEUBLÉ
Modern, settings concealed by the old façade of a period building, at the heart of the Città Bassa; ample rooms, equipped with all comforts.
Piemontese ***
PIAZZA G. MARCONI 11, TEL. 035242629
WWW.HOTELPIEMONTESE.COM, MEUBLÉ
At the foot of the Città Alta, good comfort, rooms with sober elegance.
RESTAURANTS
Gourmet
CITTÀ ALTA, VIA VIRGILIO 1
TEL. 0354373004, WWW.GOURMET-BG.IT
CLOSED TUESDAY AND DECEMBER-JANUARY
Classic settings, cuisine open until 22.30. The menu includes: marinated salmon rolls with ricotta and vegetables, green lasagnette with chicory and pink shrimp in velvety soup, baked red snapper with cherry tomatoes.
Lio Pellegrini
VIA S. TOMASO 47, TEL. 035247813
WWW.LIOPELLEGRINI.IT
CLOSEDMONDAY AND TUESDAY AT NOON
Opposite the Accademia Carrara, charming settings built from a 17th century vestry that brings back the typical atmosphere of French bistros. Giuliano's dishes offer primizie or poor products, all delicately prepared.
Giopì e Margì
VIA BORGO PALAZZO 27, TEL. 035242366
WWW.GIOPIMARGI.IT
CLOSED SUNDAY AND MONDAY, JANUARY
17th century restaurant with brick vault, warm, welcoming atmosphere. Specialities include: whipped cod and caviar canapés, beef fillet with red wine sauce and black truffle.
Trattoria del Teatro
PIAZZA MASCHERONI 3
TEL. 035238862
CLOSED MONDAY
Typical 19th century trattoria, traditional cuisine: specialities include beef braised in Barolo wine and stockfish with polenta.
Nightlife
Nightlife
The "Sentierone" is the city's traditional place to promenade, winding parallel to piazza Matteotti. Piazza Matteotti, piazza Dante and piazza Vittorio Veneto make the core of the Città Bassa. Don't forget the packed calendar of shows hosted at Teatro Stabile Gaetano Donizetti.
Circolo
VIA CAMPAGNOLA 1, TEL. 3899777408
The wine and excellent cuisine are the stars of this warm, harmonious hangout, home to the widest selection of wine from nearby Valcalepio and Franciacorta.
Divina Fashion Bar
VIA S. CATERINA 1, TEL. 035218421
WWW.BARDIVINA.IT
Select music, well-detailed, informal service in the hottest spot in town, captured on architecture and interior decorating magazines, and graced by the cream of the crop.
Shopping
Shopping
Balzer
PORTICI SENTIERONE 41, TEL. 035234083
WWW.BALZER.IT
A local institution, where the quality of traditional confectionery remains unscathed.
Coin Outlet
SERIATE, VIA TONALE 101
TEL. 035583281, WWW.COIN.IT
Coin Group's season leftovers of men, women and children's attire, gift and fancy goods for the home: 60% discount on all items.