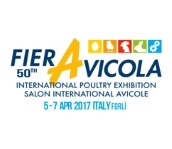 THE MOST IMPORTANT AMERICAN MAGAZINE SPECIALISED IN THE INDUSTRY AWARDS FIERAVICOLA THE PRESTIGIOUS INTERNATIONAL RECOGNITION
In May this year Fieravicola received the international award "Who's Who In The Egg & Poultry Industries" from the most important specialised magazine in the industry, Watt Poultry USA
The Forlì event confirms its role as major trade fair specialising in poultry, both at European level and throughout the Mediterranean area. The award received in America is a tribute to the international network created in the course of the various editions of Fieravicola, which offers a platform for knowledge and direct connection between companies and new emerging markets, as well as the possibility of increasing business in a dynamic and innovative setting.
Fieravicola enhances quality and technology along the poultry supply chain as a whole, from feedstuff to the end product (meat and eggs), as part of an event where companies in the industry can showcase the latest products and innovations to a qualified audience.
It is also worth mentioning the conference focusing on extremely topical scientific, technical and business issues, which always prove extremely interesting for professionals in the sector.
Watt Poultry USA is a monthly magazine whose target includes poultry chain professionals, covering production, processing and marketing topics. It focuses on the needs of executives and managers at all levels, most notably by providing business data, features on emerging trends, prospects and economic or product overviews, thus including all necessary information for the optimal management of decision-making processes, making sure that its readers retain a competitive edge on the market.