Indian Exhibition Industry Association (IEIA)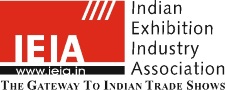 Indian Exhibition Industry Association (IEIA), was registered with the Registrar of Societies, Under Societies Registration Act XXI of 1860 Under No. 55/63 of 2006, in New Delhi. The association brings together all the exhibition organizers, managers, designers & stand contractors, freight forwarders, services & facilities providers, venue owners etc. so that there is a common platform available to the entire industry to consider ways and means for the sound and scientific development of various facets of the industry.
The Association represents the entire country and all segments related to the exhibition industry. IEIA aims to be your one stop source of information pertaining to exhibition industry, various exhibitions / trade shows organized in the country, exhibition industry news, information on various agencies, private and public organizations operating in the exhibition industry in India.
The main objectives of IEIA as per its constitution are to:
Protect and promote the common interest of its members.
Provide a common platform where members meet informally through Councils / Committees, Seminars / Workshops to exchange views and information on developments, improvements and problems in the industry.
Represent the industry in all matters nationally and internationally in relation to Government, media and public.
Organize training programmes, bring out publications, compile, tabulate and analyze statistics on the exhibitions for the benefit of the industry.
Keep close contact with the press and media with the objective of achieving a higher share of advertising and promotional market of the industry.
Promote Indian Exhibitions and Trade Fairs as cost effective marketing medium nationally and internationally.
Devise and implement a system of auditing of Trade Shows and Exhibitions so as to lend credibility.
Maintain high ethical standards by laying down a code of ethics for conducting business and safeguard high quality of services to the exhibitors and visitors to events organized by its members.