EU Project Innovation Center (EUPIC)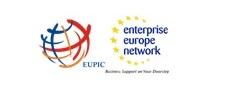 EU Project Innovation Center (EUPIC) is a non-profit organization established in Chengdu (China) in 2006 under the Asia Invest II Project, an European Union initiative promoting and supporting business cooperation between the EU and Asia.
EUPIC is a comprehensive platform promoting trade, investment and technical cooperation between the EU and China. The Center is actively supported by the European Commission, the Torch Centre, the Ministry of Science and Technology of China, the Sichuan Provincial People's Government, the Chengdu Municipal People's Government and the Management Committee of Chengdu Hi-tech Industrial Development Zone.
As the fair organizer, EUPIC's annual event, the EU-China Business and Technology Cooperation Fair has been held for 12 editions, with an overall attendance of over 3570 European enterprises, international organizations, governmental authorities, universities and research institutions as well as more than 6520 Chinese counterparts. A total of 26,200 B2B matchmaking meetings have been held and 2527 successful cooperation agreements between European and Chinese delegates were reached so far. Today, the EU-China Business and Technology Cooperation Fair has become a significant event for development of China relations for most of the EU member states.
Look for more information, please go to http://www.eupic.org.cn/
EUPIC has organized business missions of over 500 participants making fruitful business visits to Belgium, France, the Czech Republic, Italy, Spain, Poland, Germany, UK and Russia. During the visits, more than 1,500 B2B meetings held between Chinese and European organizations have been organized. Over 150 Chinese companies have reached agreements of intent with over 300 European enterprises and institutions.