Aefi - Associazione esposizioni e fiere italiane
In this section:
Rss
What are RSS feeds?

From today, AEFI will be presenting its content through the RSS (Really Simple Syndication) system, a simple and convenient way to stay informed in real time. Thanks to RSS feeds, it is possible to receive updates to your own computer about the latest news published in the portal.
You only need an Internet connection and a special "aggregator" software to be able to access our RSS content with just a few steps. The feed reader will receive all news and organise them in a program that is similar to an e-mail client, so it's not necessary to search a series of different sites to get your information. You can find several of these programs on the Internet (see bottom of page), which can then be downloaded to your PC or used via your browser. Some aggregators seamlessly integrate with the main browsers and the most popular e-mail clients.

Through RSS, AEFI distributes the date, title, summary and URL of all articles published in the following sections:
Calendar of events
AEFI press releases
Press releases from trade fair centres
Press releases for individual events
Notifications for trade fair centres
Thus, RSS feeds are the ideal way to get the latest news, even while working on other documents or visiting other sites.

Here are four easy steps that will have you using RSS feeds in no time:
I. First download, install and launch an aggregator, the program that will allow you to bundle the news RSS channels (politics, news and commentaries, sports, etc.) that you want. The following images show Feedreader (free downloadable software), but the procedure it illustrates is similar to that of other aggregators. You will see a screen like this one: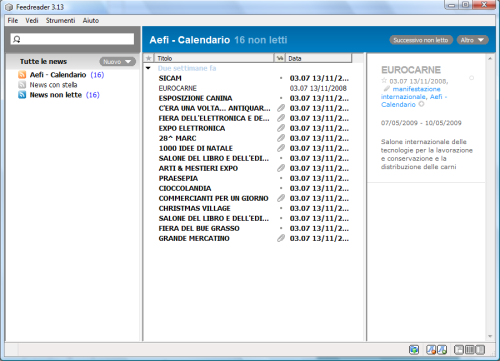 The column on the left shows your channel list. All the channels you decide to add will be there. The numbers in brackets to the side of each feed indicate the number of unread news in that channel.
The central area will contain the titles of the news belonging to the feed you have selected from the left column.
The right column shows information regarding the selected news; alternatively, by double-clicking the full news page appears.
II. To add a feed to your aggregator, you need the feed link from the site that interests you. To find the feed link, please search for an XML or RSS icon. When you display a web site for the first time, the feed search is executed. If there are available feeds, the colour of the Feed button changes. Click on the Feed button and then on the feed you want to display.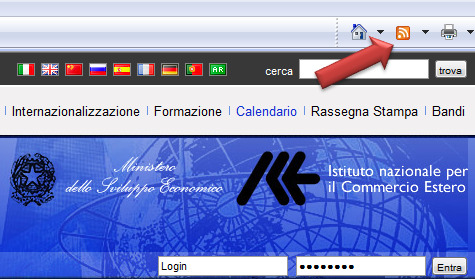 III. Now return to the main aggregator window, click on the "New" menu and select the "New feed" item. An "Add feed" window will pop up, where you can write the full address (URL) of the feed in the white space provided.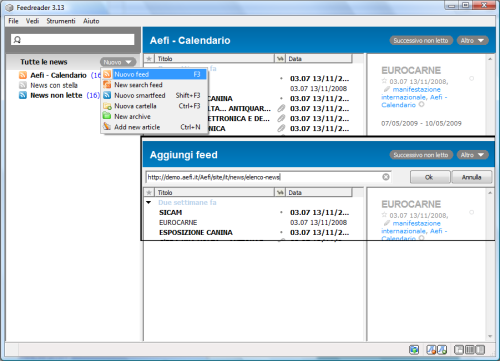 IV. Now everything is ready to make your reader work. Please remember that, by double-clicking on the news titles, the site page where the news comes from will open on the area to the right.

List of the most popular aggregators: