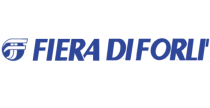 exhibitional
Indoor square meters
20000
Outdoor square meters
Pavilions
congressional
Seats
Plenary seats
Rooms
facilities
Refreshment areas
Entrances
Parking spaces
Description
Description
Located close to the major routes, just a few minutes away from the A14 motorway toll booth, and easily reachable from the old town centre, the Forlì Fair encloses a citadel of multifunctional and multi-purpose facilities. The exhibition centre is situated in an industrial-type architectural design covering a total area of 45,000 m2. It holds four adjoining pavilions, directly linked for about 20,000 roofed m2, all boasting direct access from the outside. Thanks to flexible spaces and colquality services, the Fair is set to welcome different sorts of events: business meetings, seminars, sports matches, concerts, art shows and specialized fairs. Moreover, the recent restyling of the pavilions, the new entrance to the fair grounds and, most of all, the new ultramodern Conference Hall, have polished up its image and raised its ambitions. The opportunity of new equipped spaces has made it possible to host large-scale events inconceivable only a few years ago. The Conference Hall covers a good 1,100 m2, and can seat up to 1,000 people. This modular facility, featuring a theatre-like setup with stage, is equipped to host meetings, talks and presentations (either business or political). The congress area is organized around three communicating modules, separated by sliding sections, capable of satisfying every exhibition requirement. All the spaces can be furnished, depending on organizers' needs. The first 400 m2 module is the foyer; the second holds the central hall, the more flexible section, available as a showroom or inviting sitting room for coffee breaks and buffets. The third module is the smallest, accommodating some 250 seats. If required, for minor meetings, the Fair has smaller rooms for 80 to 120 people, all perfectly fitted. Capping the offer is Palafiera, able to host over 6,500 people. A flexible space in tune with the quality standards and the facility's services, capable of adapting to host customized events. Thanks to the first-class local hotel accommodations and ample parking facilities, the Fair can host important events of international stature.
Places to go
Places to go
A city that displays conflicting features, with the peaceful daily atmosphere of its winding alleys and soothing views, clashing in some instances with a deep sense of estrangement from its Romanesque origins. Forlì witnessed a period of heavy changes when it became the "city of the Duce", burdened by the bombastic symbols that radically altered its appearance.
Piazza Aurelio Saffi The town centre, with its mostly modern look from the heavy changes made during the 20-year Fascist period. On the north-west side stands the Town Hall, medieval structure often renovated.
San Mercuriale The most famous monument in town, whose presence in the square is felt especially for the soaring Romanesque bell tower (1178-80).
Picture Gallery On the second floor of Palazzo dell'Ospedale Vecchio, with paintings mostly by the Romagna
schools (XV-XVII centuries). The entrance hall hosts Antonio Canova's Ebe; on the walls, famous masterpieces also by Guercino.
Surroundings
Surroundings
Fornò Sanctuary Just 12 km from Forlì, along the SS 67 national road, pass by the parish church of Santa Maria in Acquedotto, and stop to admire the Santa Maria delle Grazie sanctuary, also known as Fornò. Founded by Pietro Bianco da Durazzo, the sanctuary's circular complex holds a precious terracotta decoration.
Accomodations
Accomodations
HOTELS
Della Città et de la Ville****
CORSO DELLA REPUBBLICA ANG.
VIA FORTIS 8, TEL. 0543328297
WWW.HOTELDELLACITTA.IT
Situated in the middle of an extensive park, modern and functional establishment designed by Giò Ponti. Cosy rooms, with the ideal respite for the business traveller. "Bella Romagna" restaurant inside.
Michelangelo****
VIA M. BUONARROTI 4/6
TEL. 0543 400615
WWW.HOTELMICHELANGELO.FC.IT
MEUBLÉ
Aside the route leading from the town centre to the airport, comfortable rooms and five suites with jacuzzi.
Ramada Encore Forlì****
VIALE VITTORIO VENETO 3/E
TEL. 054322038
WWW.RAMADAENCOREFORLI.IT, MEUBLÉ
Within easy reach from the centre, located in a recently-built retail complex area, the ideal place for business travellers. Fresh and pleasant furnishing and style, good comfort.
RESTAURANTS
Cavalieri Templari
VIALE BOLOGNA 275, 0543 701888
CLOSED SUNDAY AND MONDAY
Around the 14th century, this establishment used to offer respite to the weary Templars on their longjourneys, and was later transformed into a church, then into today's rustic, elegant restaurant with pergola for summer dining. Innovative and traditional cuisine, linked to the local flavours: tagliatelle al sugo matto, Romagna tagliata, trilogy of lamb with artichokes, rice balls with caramelized fruit.
Don Abbondio
PIAZZA GUIDO DA MONTEFELTRO 16
TEL. 054325460
WWW.DONABBONDIO.INFO
CLOSED SUNDAY
Opposite the San Domenico convent, two-floor osteria-wine cellar. Great choice of sliced salami, cheese and wine. The menu offers local dishes like pumpkin soup with crispy bacon fat and Gorgonzola ice cream, dry passatelli with bacon and red radicchio, Romagna tripe.
Gusto
VIA ZAMPESCHI 7, TEL. 0543720165
CLOSED SATURDAY, JANUARY AND AUGUST
Secluded from the old town centre, ample settings with beautiful veranda, kitchen open until midnight, traditional cuisine, good bargain for your money.
Nightlife
Nightlife
Take a stroll to piazza Saffi, corso della Repubblica or corso Garibaldi. These are the night-time meeting spots in town, dotted with most of Forli's restaurants, joints or pubs. A popular gathering place in summer is the Urbano Park.
Dejàvu Barajà
PIAZZALE DELLA VITTORIA 16/A
TEL. 0543370615
Crowded hangout to experience all day round, with cheerful appetizers in the summer garden, starting from 17.30. Music and fun galore in the evening.
Nati a Forlì
PIAZZA CAVOUR 33, TEL. 0543370418
CLOSED TUESDAY AND SUNDAY AFTERNOON
Coffee and sweet and salty wine bar on Saturday from 18, offering endless assortments of appetizer buffets.
Shopping
Shopping
Pasticceria e Caffetteria La Loggia
CORSO GARIBALDI 125, TEL. 054333075
Elegant settings, decorated with mosaics and wall paintings. Homemade sweet and salty pastry, specialities include the Romagna doughnut and torrone.
Salumeria Tomba
VIA BELLA 1, TEL. 054320054
Traditional delicatessen, founded in 1906 with its pre-war furnishing still virtually intact. The salumi are chosen from the best local artisans, or are homemade like the cotechini, salama da sugo and guancia salata