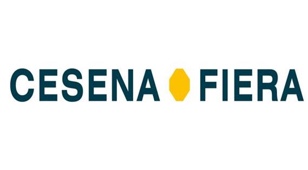 exhibitional
Indoor square meters
16500
Outdoor square meters
Pavilions
congressional
Seats
Plenary seats
Rooms
3
facilities
Refreshment areas
Entrances
Parking spaces
Description
Description
The Cesena Fair lies 1 km away from the A14 motorway tollgate and from the exit of the E45 expressway, the two main Italian road networks, which make the Fair Centre easily reachable and well linked to the main airports and to the railway station. The complex spreads over a total surface of 32,000 m2, 20,000 m2 of which used for exhibitions and 12,000 unroofed space, plus more than 50,000 m2 used for the parking facilities. The 4 pavilions are all fitted with heating and cooling systems that can be used to satisfy the whole range of exhibition needs, either independently or interconnected, if required. Some of the halls in the complex are used for presentations, others for the press office and an area for catering. Three different conference halls (accommodating 300, 130 and 50 seats) are located next to and directly connected with the Fair, and are equipped with the full range of audio-visual facilities and main services (bar, cloakroom and self-service area) to host both national and international meetings, congresses and workshops, either self-planned or organized by other entities. Thanks to the quality of its services and exhibition spaces, the Fair is qualified to offer turn-key solutions for the management of exhibition and congress events.
Places to go
Places to go
The old town centre of Cesena, at the foot of the Garampo hill, is surrounded by 14th-15th century walls. Its Roman physiognomy still virtually intact, Cesena affords a peaceful and familiar landscape, enjoyable in a totally pedestrian dimension.
Biblioteca Malatestiana One of the most precious traces of classical culture, its layout, furnishing and book heritage still unscathed today. Designed as a public library by patron Malatesta Novello on a project by Matteo Nuti (1447-52), possibly aided by Leon Battista Alberti.
Piazza del Popolo Embellished by a wonderful fountain, its southern side hosts the 14th century Town Hall, with its polygonal tower and loggia ennobling its features.
Cathedral Built on a project by the German Underwalden, partly remodelled on a Venetian Renaissance design in 1499. The Romanesque portal comes from the San Lorenzo church outside the walls. Inside, the fine Altar of San Giovanni, sculptured by G.B. Bregno.
Surroundings
Surroundings
Longiano Follow via Emilia for 11.5 km, turning right for Calisese. Longiano still preserves its fine medieval layout surrounded by double walls. Lying gently on a hill, the town culminates in the Rocca, seat of the Town Hall.
Accomodations
Accomodations
HOTELS
Alexander****
PIAZZALE K. MARX 10, TEL. 054727474
WWW.ALBERGOALEXANDER.IT
Family run, generation-old hotel experience, well-fitted rooms, dark wood furnishing with modern design. Air conditioning and car park.
Casali****
Via Croce 81, TEL. 054722745
WWW.HOTELCASALICESENA.IT
Steeped in tradition, sound-proof rooms tastefully furnished with modern design, stucco walls, antechamber and functional bathroom, large, welcoming common halls. Complementing the offer, the restaurant, offering traditional cuisine, only revisited.
RESTAURANTS
Osteria Michiletta
VIA FANTAGUZZI 26
TEL. 054724691
WWW.OSTERIAMICHILETTA.IT
CLOSED SUNDAY
Situated in the old town centre, this traditional eatery offers regional cooking closely related to seasonal ingredients. The menu includes: cooked bread sformatino with herbs, sausage stringhetti and spinach, beef meat with artichokes and roast potatoes, and, to finish off, baked cream with honey bread. Good variety of wine.
Cerina
LOCALITÀ SAN VITTORE (6 KM
DA CESENA) VIA SAN VITTORE 936
TEL. 0547661115
CLOSED MONDAY EVENING, TUESDAY, JANUARY AND AUGUST
Several rustic rooms and a new garden to dine in the open are the settings where the Dallara sisters offer guests the Cesenate aromas and flavours. Simple, though delicious dishes like the genuine salame and ham, homemade pasta, roasted poultry, grilled meat and, on Fridays, seafood specialities. Well-assorted cellar.
Ca' ad Pancot
LOCALITÀ SANT'ANDREA IN BAGNOLO
VIA BENZI 514, TEL. 0547318370
CLOSED AUGUST AND CHRISTMAS HOLIDAYS
Wonderful 19th century farm house with ample, neat rooms, offering typical Romagna cuisine steeped in tradition. The menu offers delicious pasta and beans and tasty meat cooked directly on the fireplace. List of local wine.
Nightlife
Nightlife
The small piazza Pia is the heart of the town and a gathering spot after a stroll in the old town centre. Piazza Pia is well connected to the other squares and main streets, home to charming shops and joints, the best place to be for appetizers or for after-dinner hangouts.
Teatro Verdi
VIA SOSTEGNI 13
TEL. 0547613888
WWW.TEATROVERDI.IT
Inside the former Teatro Verdi, a multi-functional space, hosting congresses, meetings and all sorts of events, but an ideal spot also for brunches, appetizers and after dinners. Inside, bar, restaurant and disco bar.
Shopping
Shopping
Salumificio Faggioli
VIA Q. BUCCI 237
TEL. 0547384733
All the pigs used by the firm come from trusted Romagna farms: don't miss the genuine salame, coppa, ham and sausages, the cotechino and the peretta, a kind of strangely-shaped stuffed pig's trotter.
Spaccio La Perla
LOCALITÀ SAN PIETRO IN BAGNO
VIA DEL MOLINO 18
TEL. 0543900811
The store offers the whole range of La Perla brands for men, women and children: clothing, underwear, pyjamas, bathing suits and beach towels. 50% discount on every item.