The AEFI offers information regarding access to trade fairs, providing users with the following tools to plan their trip to Italy:
web maps such as Google Maps and Via Michelin
assistance on demand
room booking services for all users (available soon)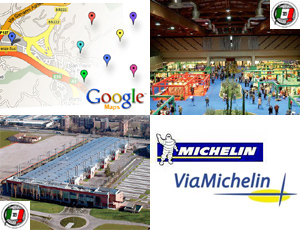 To facilitate both interaction with the published content and access to trade fairs for foreign operators, the new AEFI portal has been developed with the latest as well as "standard" technology, connecting the portal to the best known geo-referencing web tools:
Google Maps – to search for and study maps for locating trade fair events, calculating route distances, and accessing satellite images of trade fair centres;
ViaMichelin – for accessing maps and itineraries, as well as locating hotels and restaurants in the immediate vicinity of trade fair centres.

These services provide easy access for foreign operators wishing to access online information on how to reach their trade fair centre of choice, and thus be able to plan their arrival in Italy. The section of the website dedicated to member trade fair centres also provides useful information regarding foreign visitors' stay in Italy, via informational mini sites produced in collaboration with the Touring Club.
Calculate route to the trade centre of your choice