Aefi - Associazione esposizioni e fiere italiane
In this section:
Aefi & Fiere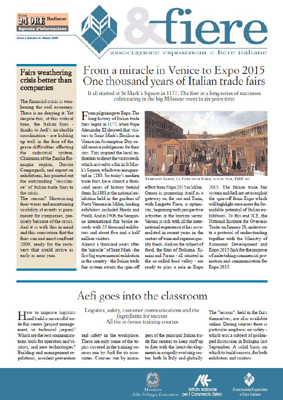 Aefi & Fiere - Year II Issue 4 - March 2009

Cover
From a miracle in Venice to Expo 2015. One thousand years of Italian trade fairs
Aefi goes into the classroom
The expert advice
The crisis? The fairs are holding up better than companies
Spotlight on...
Ministry of Development and Ice supporting fairs abroad
Safety first: Aefi's courses
Economy & Fairs
The North-East decides on alliance
Fairs in the South, innovation and tradition
Panorama
Food valley, the triumph of taste
Turin steams ahead
Fiera di Forlì - from electronics to vintage clothing, something for everyone
Aefi & Fiere - Year I Issue 3 - December 2008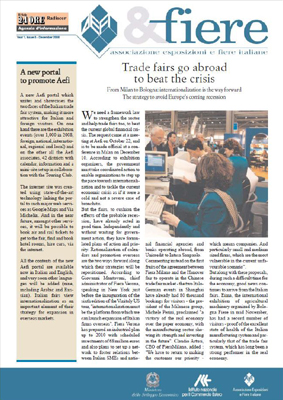 Cover
Trade fairs go abroad to beat the crisis
The expert advice

Export, knowledge and image.The points of strength of our trade fairs
Under the spotlight

Tourism is the fairs' new business
A Copernican revolution for trade fairs
Economy & Fairs

Fiera di Roma speaks American and German
Record investments and doubled revenues
Pitti Immagine and Florence: the Fiera at its best
Debt almost cancelled. Here comes Fortezza da Basso
Panorama

Pesaro wins at home and away
Ferrara at the altar
Marmotec and tourism, a winning combination for Carrara
At Arezzo antiques are all the rage
Trieste is well worthy an espresso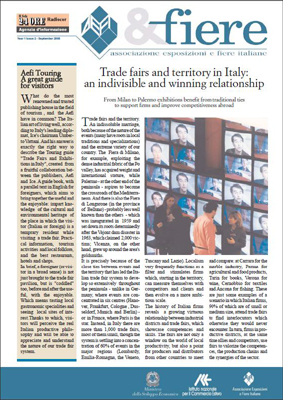 Aefi & Fiere - Year I Issue 2 - September 2008

Cover
Trade fairs and territory in Italy: an indivisible and winning relationship
The word to experts
"We play across the board to support exhibitors"
Spotlight on...
Aefi's plans to support Italian products around the world
Trade fairs, an overseas ally for small companies
Panorama
At Rimini internationality triumphs
Footwear from around the world, lakeside
Genova: the nautical industry showcases its jewels
Vintage cars and motorcycles in Padova
Piacenza: overseas visitors for Geofluid
Economy and Exhibitions
Only the very best at VeronaFiere
Aefi & Fiere - Year I Issue 1 - June 2008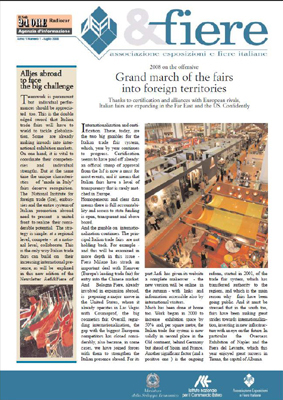 Cover
Grand march of the fairs into foreign territories
The word to experts
Cercola (Aefi) on the attack:"Fairs, united we are stronger"
Spotlight on...
Certification for one fair is a benefits for all the others
Aefi's new Michelin-style website
Panorama
Foreign visitors come to Bologna
Two mega-pavilions to match Chicago
Tirana draws the crowds
Naples returns to profit
Macfrut, the best food can get
Latest medical tech at Cremona
Engines roar in Modena

Economy and Exhibitions
Direct line Milan-Hannover
Record figures for first quarter 2008